It has been quite a while since we posted here and truly a lot has happened.
Most recent was us staffing the Medical DTS, a program at the University of the Nations, Hawaii, also known as YWAM Kona.
We got to know the many students, enjoyed and were challenged by the various speakers, again, and had a good two months.
We travelled back to Norway just in time for Eskil's birthday, which already is over 6 weeks ago. During our time in Hawaii it became clear that Herbert was to help out during the outreach phase in Cambodia.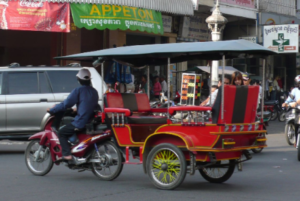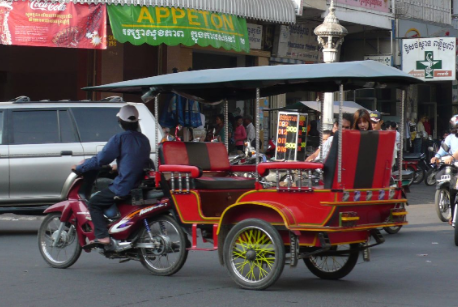 And so I write this update from room 314 of the Khemara hotel in the middle of Battambang, Cambodia.
We arrived in Siem Reap at the end of last week, and had our first full day in Battambang only two days ago, Monday. Despite having been in Cambodia only days, a lot has happened already, from the expected "outreachy" stuff such as setting up a clinic and visiting a local school to help teachers and students, to having intercession for the team and the people we engage with.
Cambodia has a very recent dark past, with the Khmer Rouge devastating the country. The scars and sometimes wounds are visible even today. It is also a Buddhist nation, with most of the population into worship of ancestral spirits; little spirit houses can be seen everywhere.
This may seem like a challenging environment to evangelize in, and it certainly comes with its share of them. From my bed, I can see a sticker 'no smoking'. Opposite it, there's an image with 'no pistols'. On the bathroom door an A4-sized information sheet which explicitly prohibits rice cookers, prostitutes, grenades, drugs and assault rifles. What an absolute hilarious infosheet, I thought: who puts up something like that?
But if you attempt to answer that question, Who puts up something like that?, honestly, you arrive at possible answers that are far from hilarious. This is troublesome and easily worrisome.
Being part of a mission team we look at the spiritual side of the situations. The enemy knows this and resorts to intimidation, using the echos of past horrors to cause confusion, fear, and numb our sensitivity.
For example, the hotel where we are staying is a dark place. We prayed for the rooms and the hallway on Monday evening, and just now I went to talk with two students, and prayed for their bathroom. The main lesson we learned was that though the enemy may look intimidating, our God is greater. John 3:14 (remember we're staying in room 314) states that Jesus was lifted up – which is what we are to do!
We would appreciate prayer for our situation and that we never forget just How Beautiful Jesus is.
Love and respect from Battambang,
Herbert
PS: I really would appreciate prayer. I need to not ever forget that Jesus is Lord.