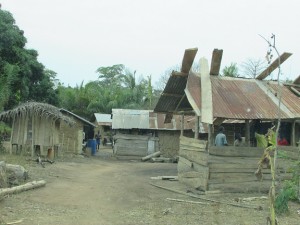 Last week we have visited a village called Adepena. We heard from Solo that the people of this village have been praying for clean water for years. They have asked Solo for possibilities to get a water pump many years ago, but Solo couldn't promise anything.
When our friends Bodil and Gabriel from Denmark were visiting, they really felt to try to raise money for a pump. When we heard that they now already had half the money needed, we talked to Solo about visiting a village in need… so, this is why the people in Adepena got their prayers heard. We decided the money would go to a pump for this village.
So, last week we drove out. We = Solo, Herbert & me and our children. The first part of the drive is easy, following the main road towards Berekum, from there the road was a dirt road, but still pretty decent. But where the power lines ended, we had to drive further and further into the jungle.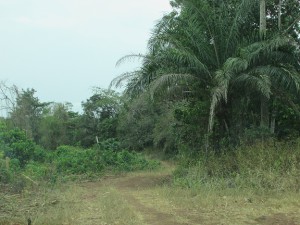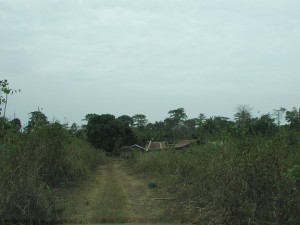 Solo told us the village was 'hidden' inside a virgin forest. We were actually the very first white people to visit this village.
The people were very surprised, but most of all very happy with our visit. It was such a nice and warm welcome.
I got to tell them that our friend Bodil was raising the money for a water pump for them and a big applause came from the people. It was heartwarming seeing them so happy!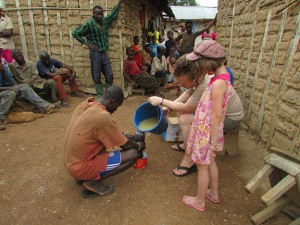 Then, Herbert explained the people in the village how they, until the water pump would be ready, filter their water with coal in a bottle. Especially the men were very interested. They showed the dirty water they had in the village and Herbert filtered it through the coal. We left the bottles with them, so they can try it for themselves.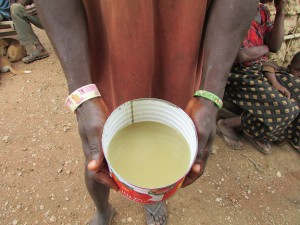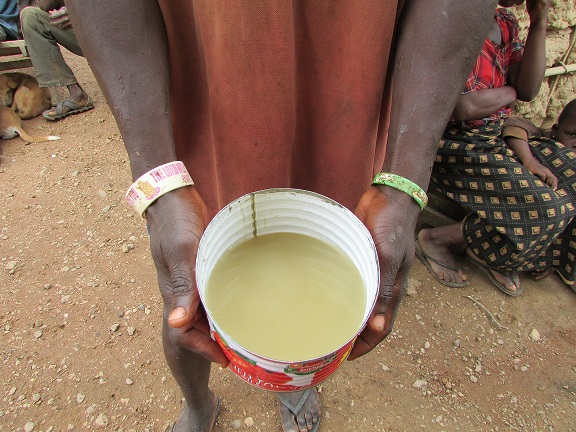 Only a month ago, a 4 year old girl died from drinking the dirty water. Getting clean water is extremely important for a healthier and better life.
In the meantime I was trying to communicate with some of the ladies and handing out some blankets and baby clothes made by women in my parents' church.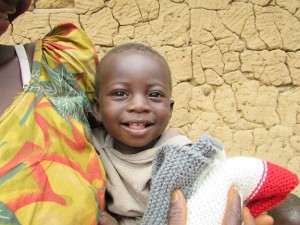 The people also wanted to show us a second village, even smaller than Adepena. We started walking, not knowing how far it would be. It was quite a walk, through the bush and through a coco plant, but we made it.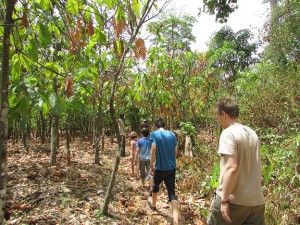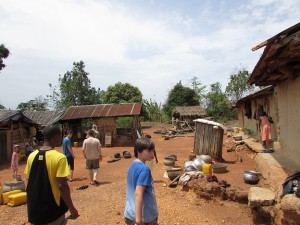 In this village the men brewed their own beer, made of corn.
Eskil connected with a guy named Joseph, they even wrote down each other's phone nu mbers and promised to stay in touch.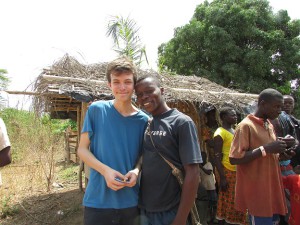 Before we left, Herbert gave some men an sd-card with the Jesus movie in Twi (the local language).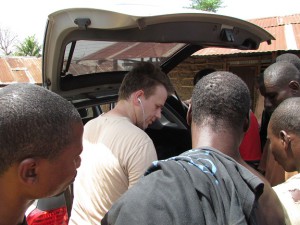 They whole village was there to wave goodbye to us.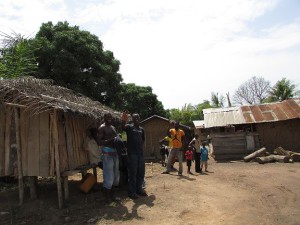 And the best part of this…
Coming tuesday we will go back to let the people know that already this week they will start drilling the bore hole for the pump! Within a month from now, these people will have clean water!