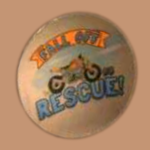 Krister and his classmates Alfred Kvendset, Even Grøntoft, Isak Brattgjerd, Lukas Hegge, Ruben Chiorean and Erik Nødtvedt Gilje, have been participating in a project where they built a company from scratch. Their idea: developing a device that registers when a motorcycle (or something similar) comes to a sudden halt due to an accident. Their device will then send the GPS location and a message to the rescue services.
Today he and a collegue, both from our local little town, were featured prominently in the local newspaper, which is nice; the facts that the newspaper shared were all correct, including the spelling of his names. Miraculous :)
The PDF is here: 20230105 – Ålgård – Bedriften til Erik og Krister fra Ålgård utvikler sensor som kan redde liv
Update:
They won the regional competition and travelled to Oslo at the end of April, where they visited Stortinget (conclusion: boring), and participated in the Norwegian Championship, in the following categories: Beste ungdomsbedrift (best company), Beste yrkesfaglige bedrift (best vocational company), Bærekraftsprisen (sustainability), Størst verdiskapingspotensial (value creation potential), Beste HR-bedrift (best hr company).
Of these, they came in third in the categories Best company, and Best vocational company.
Newspaper articles and radio interview: