Dear friends and family,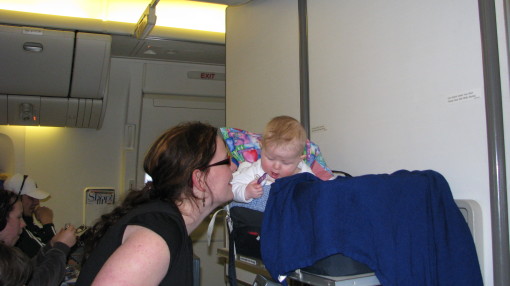 We arrived safely in Bermuda! Yesterday, thursday, we left from Schiphol airport in Holland to London Gatwick. Our plane was supposed to leave at 11.55, but left finally at about 13.30. Arrival in London around 13.30 local time ;-) (around 1 hour flight to London).
Our plane to Bermuda left at 14.30, so we had 1 hour to catch our flight, which was really not to much at all, since security in London is just crazy… we had to take of shoes etc, all of us, so it took quite a while to get through security and get to our gate.
But, we made it to the gate in time and made it to Bermuda at well :-)
The kids looooved the big plane. They got a gift-pack with a little book, coloring things and a little toy, really nice.
But after 3 or 4 hours it was not all that exciting anymore, they got tired because it was starting to be late and they had enough of sitting.
We had a little baby bed for Bente, which was great. Only thing was that I had to take her out of her bed while sleeping quite a lot, because of turbulence. As soon as the seatbelt sign went on, I had to take her out, and that happened a couple of times during the flight, of course every time she was sleeping and woke up when I picked her up :-(
And finally, when all the kids just had fallen asleep, we landed in Bermuda.
On Bermuda airport we had to fill out forms for customs and it took a loooong time to get through customs, but also there we finally got through. All suitcases were already there (ofcourse, since it took us about an hour to get through customs – that is before the luggage pick up), and when we came out with our luggage a taxi driver was waiting with a 'van vliet family' sign, and he drove us to Hamilton, where the ship is.
Put the kids to bed almost immediately, since it was already after midnight (our time) and they were very tired!
I went to bed when it was about 11 o'clock Bermuda time, which means 4 at night for us, and Herbert even later!
Bente was awake a couple of times during night and Marthe, Eskil and Krister were all up and dressed at 5 in the morning!!
I think it might be an idea putting them to bed just after dinner tonight ;-)
We (that is, the kids and I, since Herbert was in a meeting with the IT guys) already went for a little walk in the center of Hamilton, where we found a great shop with children's clothes, where we definitely are going to shop later ;-))
Well… that's all for now!
Please leave us a message, send a mail or some other sign of live… we love to hear from you all and know that you read our blog.
With love from Bermuda
the van Vliet family