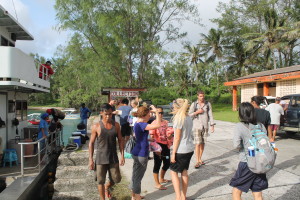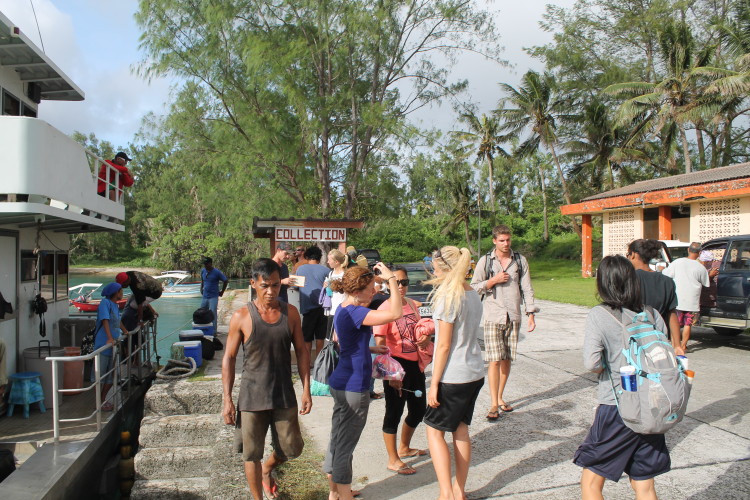 Angaur is a very very small place.
In total, some 100 people live here, which means the population is declining very fast (january 2014).
The island itself is a beautiful place, but after the last typhoon, two years ago, many trees were toppled, houses destroyed, and since then weeds have mostly taken over the place. Literally. They provide excellent cover for the monkeys (Angaur is known as Monkey Island), and so the weeds, the monkeys, and the lizards are some of the problems the people of Angaur face.
Life here is mostly quiet, though difficulties can of course happen here as anywhere; but life is only mostly quiet. The ocean controls much of the traffic to the island, and apart from the Palauan Ministry Aviation which operates a plane on fridays, the ocean controls the weekly ferry from Koror and the occasional speedboat. The ocean provides also a variety of foods. From crabs to fish, all the way up to sharks.
But the ocean is not always quiet and that affects the flow of goods, mostly food, and sometimes there are even casualties. Not too long ago, three fishermen went out, and only one made it back. The other two were never found.
For a small society, it is a huge shock.
A specific Palauan tradition is that on a funeral or memorial service, the guests bring a token for the family. From tradition, this is a sum of money, and it greatly helps the family, though it can easily place a burden on the giving part.
For us, we try to navigate as well as we can, and do not try to be in the way too much or too little. The planned memorial service pauses our planned activities at the moment, such as the pre-school children's mornings and the dancing classes.
At the island there are two churches, the Angaur Evangelical Church and the Catholic Church. The rooms where we are staying in, are at the back of the Evangelical Church. Right outside are banana trees, some coconut trees and the remains of a papaya tree which unfortunately was toppled when we were cutting back the jungle.
We have got to known a guy "Jewish", who has a remarkable story. His father died some years ago, his mum had a stroke, and he himself fell out of a beetle nut tree, leaving him with broken bones everywhere and in a coma for months.
He has to learn a lot of things all over again, but his happiness such a testimony and positive example! He talks about how he wants to join the US army, and about his girlfriend in Korer. He'll probably go to a boarding school there, and as soon as you're used to that, the step to a college or university in the US is not really a big one, socially.
So far, that has proven to be a brain drain because the people are leaving not only Angaur but also Koror.