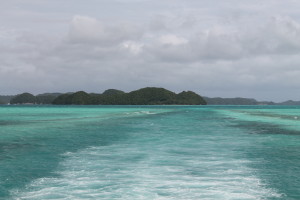 Hearing God' voice
In week 2 of our DTS in Kona, Donna Jordan taught about hearing God's voice. It's amazing when the infinite God who created the universe, also is the personal God who reaches out for me in love, and cares about me. Jesus talks about that in John 10.
If you look for an experience with Him, to understand better how He speaks to you, there's references in the Bible, Jeremiah 29:13 for example, or Isaiah 48:17, which do encourage you to seek Him; today more than yesterday :-)
January 29th 2014 was one of those days where I got to seek Him, and He let me find Him in a new way.
At that time, we were staying in Angaur, a somewhat remote island in the state of Palau. The island depends greatly on supplies from the main island, Koror, but transportation is not always reliable, because of the weather conditions and currents.
Some issues had come up that we had to deal with and walk through, and I wanted very much to talk to one of our leaders of the DTS, who was visiting Koror at that time, to talk through things some more.
That day started somewhat the same as the other days at the island; I got up at around 6 am, got prepared and walked to the school where I helped some students with their math from 8 to 9.
At around 9 I explained that I had to go to Koror, got in touch with the principal and explained the situation to her as well.
At the time I was still thinking that I'd travel to Koror with the boat on Thursday, however…
Back in the house where we stayed, http://goo.gl/maps/AdNLi, Matt stopped by, tells me there's a speedboat leaving for Koror in 30 minutes, and so I pray if I should go to Koror, as it would be good to talk to some people there. God tells me that I should, and so I start packing.
Castol, the local pastor of the evangelical church, arrives on his scooter however, and tells me that the boat already left. Strange. Did I hear wrong?
Maria shows up and Castol gets a call that the boat returned to pick me up. So Castol drives me to the harbour and drops me off onto the boat. Makes you wonder how communication works, sometimes…
The speedboat takes over an hour, and you really have to hold on well: it travelled fast, taking the southern route around the island.
While on the boat I asked God: What do I do when I arrive in Koror? And He replied: you'll see.
A little over an hour later we arrive in Koror. The sea was rough, to me at least. The Palauans tell me it was a smooth ride though.
I get a ride into town and buy a cup of coffee in the well known 'coffee berry' shop. The baristas are mostly from the Philippines, as seems to be the case with personnel for most shops.
The classic rock radio station plays out of the blue a quiet gospel song and God tells me to go outside when the song's done. While leaving the shop, I bump into an Israeli guy who is biking throughout the world-ish with his wife and their baby. He's hearing things about Angaur and already heard about Benny & Catherine's place, so I fill him in and tell him he definitely should check out Angaur – with a small hope in the back of my brain that he could stay at their place for a longer time.
I then walk over to some shade (meaning under a tree – Jonah anyone?). I ask what's up next, and God tells me not to worry – something will happen within half an hour.
About 30 minutes later, a taxi drives past with a few of the girls of the outreach team. I talk with them a bit, and go shopping for crucial supplies, such as C-vitamins and candy.. the usual.
After that I wait outside the shop for what's next. God asks me to pray for our local contact. After an hour or so, I decide to call her but then wonder why she doesn't take my call. When I ask the girls who walk by waiting for their cab, they tell me that her car broke down and she's in hospital. Things make sense.
But then, unexpectedly, she rings back and we agree to meet at the coffee berry at 18.30 or so, where we talk, talk some more, make plans for the day after, and where I, graciously, get offered a place to sleep.
A very non-typical, very nice day. Thank you, God.