Just recently the Heart for Children Foundation Ghana has started to expand the daycare with a separate room for children with a disability.
Since then, 3 children have been accepted, 2 girls (Blessing and Edna) and 1 boy (Isaac). 2 ladies (the mother of one of the girls, and the grandmother of the boy) take care of them.
Until last week they were in a dark room the whole day. The curtains would normally be closed and the ceiling was dark brown, which made it even worse.
It unfortunately still is the culture here in Ghana to 'hide' these children inside, because it has always been considered a curse to give birth to a child with a disability.
We're very happy that these children are being taken care of by their mother and grandmother, and we want to encourage that by giving them food and a place to be her at the daycare, and in addition a small salary.
I very much disliked the idea of those children being inside this dark room the whole day though, so Herbert and I decided we wanted to buy paint and have the room painted in light colours and colourful and fun design.
My parents then decided they wanted to pay half of the costs.
Solo knew a painter who has made several good paintings before, so we asked him if he wanted to do it.
He was willing to do so.
Opposite from what we're used to in Norway, the paint itself was about 5 times the amount of his salary, and he worked on this for several days!
This is what the room looked like before: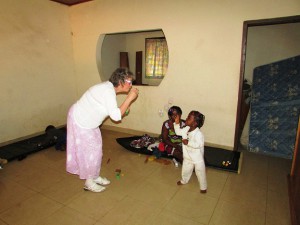 The kitchen was filled with rubbish, dust and mattresses.
The roof was very dark.
The curtains were very dusty and dirty and made everything even darker.