100% Hawaiian for Merry Christmas, since at least 1904. How so?
Christmas, but every consonant must be followed by a vowel, so: Carisimasa, but C is not a letter, so: Karisimasa, but R is not a letter, so: Kalisimasa, but S is not a letter, so: Kalikimaka.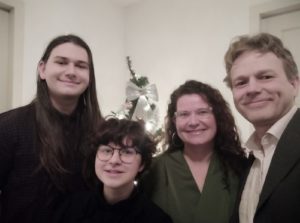 This year, though, we're celebrating christmas in the Netherlands, after having spent a few months there to live life closer to family and old and new friends.
We started the year in Kona Hawaii working with YWAM, enjoyed the summer in Norway, celebrated 25 years of marriage with our family in Danmark, had most of the windows of our house replaced, and spent a few months in the Netherlands with family and friends.
Maria enjoyed making new connections and friendships in Hawaii, which she thrives with. The Hawaiian weather is also very gentle and gives more energy and softens the pain. Fall in the Netherlands has been wonderful with bike rides and walks in the woods. She has not been able to bake as much as she would have loved, but at least dieting is going well :-) She has enjoyed spending time in the Netherlands catching up with friends and family.
Herbert joined the company of two good colleagues, drank way too much and too strong coffee, and discovered Virtual Reality with the Oculus Quest.
Krister read countless manga books and played many versions of Zelda. Krister is trying to make up his mind about what study to start next fall and he still isn't sure yet. Growing up he wanted to be a chef, but lately he has discovered he likes eating the food more than preparing it :-) He's considering whether to go to a boarding school or not. We found a Christian boarding school close enough to our home to come home whenever he wants, but still with the option to live there and spend more time with classmates.
Bente spent significant parts of the days on her electrical guitar. She loves all kinds of music of different genres and wants to play in a band. Bente also made new friends in Hawaii and connected with 'old' friends who are missed when we're not there. In the Netherlands, Bente has been pretty much homeschooling herself following the Norwegian school plan that the teachers posted online, but she misses going to school and hanging out with friends. She is very much looking forward to being back in Norway and going back to school. She's very eager to study hard and get good grades.
Marthe and Sander shared their marriage date with the world, which will be in June 2021. Marthe started her study to become an art teacher, while Sander is continuing on his master in Economics. They're still living and studying in Oslo, where they'll be looking for an apartement together soon.
Eskil and Sofie are halfway through their year at Folkehøyskolen just outside of Kristiandsand in the south of Norway. Eskil got his hunter's license and has spent lots of time outdoors with his classmates. They are in different classes but in the same school and made new friends and are enjoying their time at their school.
PS:
The early adopters of the message of Jesus, Christ, some 2000 years ago consisted of people that had literally seen the light, or were convinced otherwise. The shepherds saw angels, Magi from the East saw their guiding star, and many were told otherwise and believed: Maria, Joseph, Elizabeth and Zechariah, even Herod.
Many have since come to the conclusion that Jesus' message is true – and many have come to the conclusion it cannot be true.
I myself believe His message meant the end of bondage: the requirements for righteousness or acceptence are not based on what I do (instead: it's based on what He did). Jesus, whose birth we are celebrating in this season, would later deal with the powers and authorities that govern righteousness: He made a public spectacle of them, triumphing over them by giving up his life at the cross.
As a consequence, as I am accepting God's grace, I have no other option than to extend the same forgiveness to others. Remind me of this if I need that.