Excuses excuses… I surely could use some, for saying why I haven't been updating this blog for quite a while…. but I won't. Let's just leave it with: finally another message from the van Vliet family!
Since a few weeks, our 2 eldest kids are here as well! It's so nice to have our family complete for Christmas.
They will be here for 1 more week until they unfortunately have to leave already :-( Time is going way to fast, and they haven't even tanned yet! Reason for that: mainly because we have had rain pretty much every day since they arrived (hm.. wasn't that the reason they escaped Norway?)
This year, we'll celebrate Christmas US-style together with our big YWAM ships family here at the base.
There will be food, gift exchange and a lot of fun games involved.
We even put up a Christmas tree in our room and our first present (from our sweet friend Tracey) is waiting under the tree (she found Dutch 'van Houtens' cacao! The tin looks very old, but it's still closed)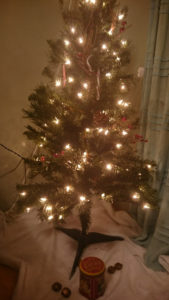 It's a busy season here at Ships. I (Maria) am quite busy working on housing. All our students are leaving between now and the 27th and room checks need to be done before they leave.
In addition we're working on arranging housing for all coming students, staff and volunteers for the January quarter, which also is quite the puzzling job. But, I very much enjoy my job here and feel blessed every day that I get to do this in a place like this!
Herbert is busy setting up all kinds of new systems here, both phone systems and a media system (TV screens hanging everywhere with info). If you're interested in his job and understand the lingo, then I suggest you read the blogs Herbert wrote. If you're like me, you might still want to read it, but I can't promise you'll understand anything of it ;-)
Bente and Krister are now done with this quarter of Foundation School, it was both great and challenging for them, but they both made friends and had a good time.
We're not sure yet how next quarter will be, as we might need to do home schooling these coming 3 months, as Foundation School is very full and they might not get in.
If anyone feels called to come over from Norway and join us here in Hawaii to teach and hang out with our sweeties, let us know! Maybe that would be a good option to consider.
So, that leaves us to wish you a very blessed Christmas. May you find peace, joy, love and hope!
Enjoy our video, especially made for you, with love from Hawai'i!