Monday morning at 10am we were ready packed waiting for our taxi driver to bring us to Poipet. Unfortunately he was waiting by the wrong building further down the road, which we didn't find out until around 11am, so it took a while before we were on our way to the border, but that time was spent chatting with Noah, our old friend from the ship.
The taxi driver was a very nice guy, who spoke fluent English (through Google Translate… hehe). So funny how every time he wanted to say something he took his phone out and spoke in Thai into his Google app, which translated it into English for us to hear. The translations were hilarious sometimes but understandable. The first sentence was "your taxi driver speaks fluent English" :-) (he seriously didn't speak a word!)
Around 3pm I believe, we arrived at the border between Aranyaprathet (Thai side) and Poipet (Khmer side).
We first had to walk for about 5-10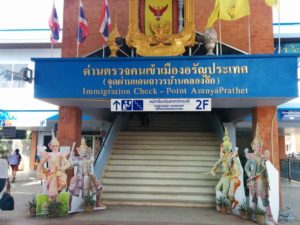 minutes with all our suitcases to go get our departure stamp on the Thai side, leaving the country.
The Thai departure was upstairs!
No, of course we didn't mind walking up those stairs with 4 heavy suitcases and hand luggage, and afterwards downstairs again, why would you think that?!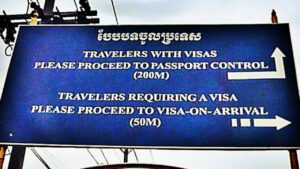 After that we had to cross a heavily trafficked road to go to the visa-on-arrival desk, where we had to fill out the visa application x 5.
Finally ready with all the paperwork, I handed in all 5 passports with visa applications and paid the fees. The officer told me he wanted 500 Thai baht extra. On all official signs it only says $30 or $35 dollar for the visa, depending on which visa you are applying for, it doesn't mention the extra 500 baht, which is around 10 dollars. When I asked the officer what that money was for, he didn't answer, pretending not to understand English, so I continued pretending not to understand anything of what he said, which finally resulted in us getting our passports with visas back without paying the extra ;)
I know, it's not a lot of money, but I don't like actions like that. The visa price is fixed, so that's what I'll pay.
After leaving that building with our visas, on to the next building, the passport control, where our arrival to Cambodia had to be stamped into our passports.
Of course, 5 new forms to fill out…. whoooohoooo… yeay!
Lucky for us it wasn't busy at all (both at the visa desk and the arrival desk we were the first/only ones and didn't have to stand in line besides the time it took to fill out all forms).
Tons of fingerprints and stamps later, we FINALLY were in Cambodia, where Daniel and Chelsea were waiting for us with the van.
So awesome to see them (and later the whole team) again!
Right before we arrived at the base, the rain started pouring down, which here in this part of town is equal to mud everywhere!
But…. WE'RE HERE!!!