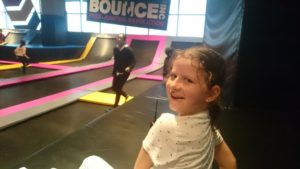 Bounce bounce bounce
Sunday was our last day in Bangkok and since it was unsure what the weather was going to do, we first had lunch again at the Terminal 21 shopping mall and ended up taking the sky train to Phrom Phong station, which is connected to the EmQuartier shopping mall where BounceInc, the trampoline park, is.
Here we spent some time walking around the mall and Krister and Bente enjoyed the trampolines and made new friends. They had lots of fun.
It was a nice afternoon!
In the evening Herbert and I met up with Mark again for a drink, since we were leaving to Poipet Monday morning. Hopefully we get to see him again before we leave Cambodia, but it isn't sure.
During the Sunday, we found out that one of the guys we worked with on the Logos II in 2008 arrived in Bangkok that evening! We don't believe in coincidence, this was so awesome! He didn't have time to meet up that evening, but after his early morning meeting Monday, he was able to take the train out to us and spent some time with us before we left. What a blessing to meet him again!