Appropiate Technology. Simply water.
If you – like me – just LOVE the fusion of high-knowledge and low-tech… then you'll most likely LOVE this article about the Rus Pump. The Rus Pump was invented by Rus Alit. You may disagree about it being an invention, but you'll most likely agree it's genius in its simplicity.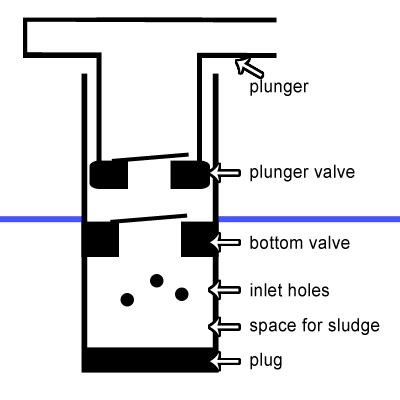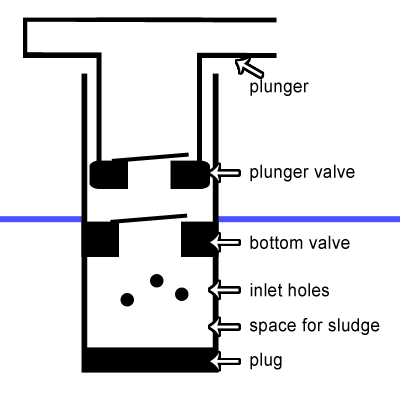 On the upstroke, water is sucked into the space between the two valves. On the downstroke, water is forced up the center pipe.
Now think PVC: Readily available. Cheap. Light-weight. Two different tube sizes and some caps is the very minimum of what you need.
The PVC caps need some adjustment (sanding) so they fit inside the widest tube:
the bottom valve needs to stick and not ever move again.
the plunger valve needs to be able to slide up and down.
Both caps will have the same layout: drill a few holes to let water through. Since it will need to let water through one way only, also drill a hole in the center of the cap for a screw to attach a seal (cut out a small circle out of a used tire for example).
If you don't have a drill to drill the holes, heat the material over a fire and use a spike to easily punch holes.
The real kicker is that this is such an inexpensive and simple pump that pretty much anybody can build and maintain it.
Have any ideas on how to spread this info? Do it! Convenient and easy access to water saves lives!