Always something fun and practical going on with the guys from JusticeWater.org: Today we looked at the procedure of how to create a tippy tap.Kr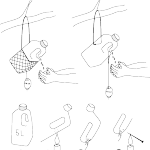 The Tippy Tap is a low tech, low cost, highly efficient water distribution mechanism.
Basically, it's a used plastic bottle hanging from a thread with a little hole that dispenses a little bit of water for washing your hands. After having used the water to have cleaned your hands you can collect it and use it for growing food, but the main idea?
Well. Water is scarce. If you have to walk for over an hour to get 10 liters of water, and then have to walk it back, it's become valuable. What does your boss pay your for one hour? That's what that water 's worth.
And when it's that expensive, you'd rather use it to prepare food or drink it, not for washing your hands or doing the dishes!
Hopefully though with this minimum of water being used for washing your hands, people can be persuaded to do that. Main reason is that over 40% of health-related deaths are still about hygiene.
That means: washing your hands.
Semmelweis would be proud.