This is Dany.
She is the owner of a cozy coffee cafe just around the corner called "Dream Coffee". She's a neighbor who speaks English really well. She even understands Chinese – which is likely true, I will take her word for it.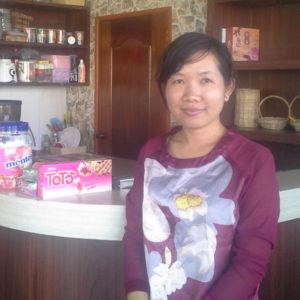 Dany is a talented shop owner with a knack for sales. This morning she shared how her grandfather recently passed away, and how strained her relationship with her father was.
Nothing much I could say except share that I do have those sentiments about me being a father.. It's a good thing for both me and all parents that kids are forgiving. Well, actually .. if you seek forgiveness, most people seem willing to forgive. That's good news.
She also shared how difficult it was to grow up without friends, but how thankful she was for the education she received.
I couldn't help but share the story – again – about how Bill Gates said: "Our kids will receive a great education and some money so they are never going to be poorly off but they'll go out and have their own career." I hope he'll forgive me mentioning him so many times.
Not everyone understands that education can get you money, but Dany does.
We invited her over for supper this afternoon (a person has to eat anyway, right?), and she said she was someone that was easy to feed. Haha, that was a new one :) I hope she shows up.
I asked her if it was OK to take her picture and to ask the people back home to pray for her business to be successful. If you feel led, please do :)
I hope her business will be VERY successful!