Some of you might be wondering what we're doing here in Hawaii.
Some of you who maybe don't know us that well might think we're into surfing, like to swim with dolphins, want to get a tan or were just tired of working and needed a holiday in the sun :-)
Some of you who know us a little better might know we want to go where God wants us, and yes, preferably in the sun, because we just do better in warm weather…. hey, you know us, so you know this about us as well, right? And absolutely: we love sun, we love warm weather, but most of all… we love God and people, and that is why we do what we do.
Before coming to Hawaii we didn't know exactly what we would be doing, so here's a little about what we've been doing so far, and what we'll probably will be doing for a while:
We are living at Port YWAM, a ministry base for YWAM
(Youth With A Mission) Ships in Kailua-Kona.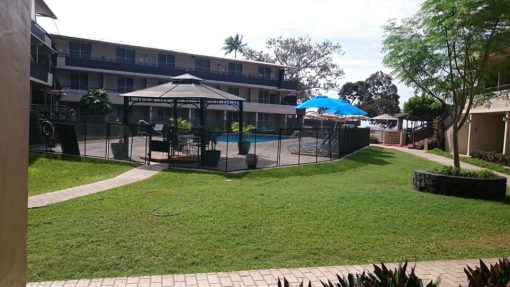 At this base there are currently 4 YWAM schools:
Ships DTS (Discipleship Training School)
BCC (Bible Core Course)
School of Navigation
Introduction to Primary Healthcare
In addition to the students at these schools we have volunteers and staff.
To run the schools and keep this base working, many hands are needed: everybody needs food and a room to sleep in, the buildings need maintenance, equipment needs to be working and many more things.
So we are here as staff.
Herbert is doing IT (making sure the wifi is working so I can send this blog, and lots of other things I don't even know about).
I am overseeing hospitality (making sure new people and guests get a clean bed and feel welcome).
(This is the short version, if you want to know more detailed what we do, ask us).
You might not think of doing IT in Hawaii as missionary work, but being a missionary can be so very different from "living in a poor village somewhere in Africa and telling people about Jesus". Staying in your home country can be missionary work as well.
In the document below there is a very good description of what YWAM Ships does.
If you are interested in the ministry, take some time to read or browse through this document: About Ywam Ships.
Without many people like us in staff and volunteer teams, this base wouldn't be here and the people in this ministry, saving lives of other people, wouldn't be sent out. And without YOU, people like us can't serve the people who are being sent out.
We feel so blessed to be able to serve those who go into the world, to the unreached places to bring health (both physical and spiritual) and we'd like to give you the opportunity to share in that blessing.
Yes, you can all be a missionary and save lives! Not everyone can or wants to travel like we do, but together with us you can still be a missionary!
If you would like to serve together with us, this is what you can do:
Pray for us and our family, the base, the staff, volunteers and ministry leaders, the students being sent out, the ministry and the people on the islands receiving healing.
Prayer is the most powerful and important tool.
Partner with us by financially supporting us or special projects we have on our hearts. There are several ways to financially support us or our projects:
For Norwegian friends: kontonummer 3201.34.51809 eller Vipps til 95873763 (Maria).
For Dutch friends: rekeningnummer NL94RABO0382214447 tnv M.C. van Vliet-Hammink.
International: PayPal – maria@vliet.net
Please let us know if you want the money to go to a special project; we'll blog about such projects from time to time.
Serve at Port YWAM. Check out http://ywamships.net/ or ask us. There are YWAM bases and schools worldwide, so you can also serve where you are.
Mahalo niu loa (thank you very much) for your support and blessings!
Maria, Herbert, Krister & Bente